Advanced Metal Coatings Incorporated
(AdMetCoUS)
[Formerly Advanced Metal Coating Analysis, Inc]
PatinaFormaTM: Accelerated and Natural Weathering of Weathering Steel
Bridge Corrosion Evaluation, Site Corrosivity Determination, Rust and Coating Analysis, Accelerated Cyclic Corrosion Testing and Atmospheric Exposure Testing and Project Management. Below are photographs of some of our contracts.

Coupon Exposure and Corrosion Monitoring. Moore Drive Bridge, Rochester NY.
Bridge Inspections, Corrosion
and Coating Evaluation.
Clear Fork River Bridge, TN.
Site Surveys and Corrosivity, Steel Coatings.
JFK Memorial Bridge, Louisville KY.
Deep Ocean Submersion. Corrosion of steel structures. Gun Turret of the USS Monitor.
Corrosion in Tropical Environments. Luling Bridge, New Orleans, LA.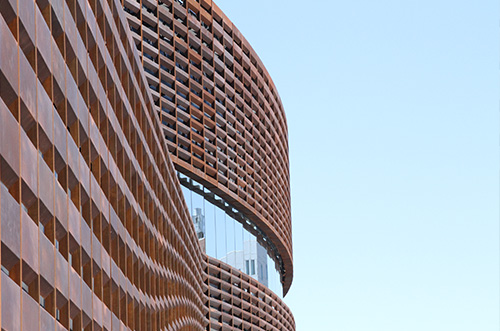 Barclays Center, Brooklyn NY
Advanced Metal Coatings Incorporated was formed in 1994 with the express goal of evaluating corrosion problems in case-by-case situations, recognizing that each exposure situation has unique features that must be determined and correlated with the corrosion observed. In most cases local micro-environmental conditions can then be controlled to reduce or eliminate the corrosion problem.
PatinaFormaTM -an Active Coating and a New Weathering Technology
for weathering steel structures, including High Performance Steel
Researchers at AdMetCoUS have 30 years experience working with Rust, Weathering Steel, Steel Producers and Fabricators to determine and understand the performance of the uncoated steel under different atmospheric exposure conditions. We know that the properties of the Patina formed on Weathering Steel are critical to the protection of the steel and the reduction in its corrosion rate. We understand why the Patina is protective in some environments and non-protective in others. We know how to characterize each situation. We also know it takes at least 8 years of atmospheric exposure to develop a natural and protective patina. We have had our findings peer reviewed by experts and we have published the data in dozens of international journals and magazines.
NEVER AGAIN.
Our knowledge of the rust patina; its formation, its exposure tolerances, its adherence, its composition, its morphology, its color, its performance, has led us to develop PatinaFormaTM -an Active Coating and a New Weathering Technology for weathering steel structures, including High Performance Steel.
PatinaFormaTM is a series of surface treatments the we apply to Weathering Steel to develop the correct adherent and protective patina, suitable for exposure in all atmospheric environments. The treatment selected depends on the atmospheric exposure conditions the steel will be in.
PatinaForma-ATM An accelerated Patina Formation during fabrication and preceding construction.

PatinaForma-WTM A coating that accelerates Patina Formation developed for exposure in wet locations.

PatinaForma-CTM A coating that accelerates Patina Formation developed for exposure in chloride containing locations (Marine and De-Icing salts).

PatinaForma-CWTM A coating that accelerates Patina Formation developed for exposure in wet and chloride locations.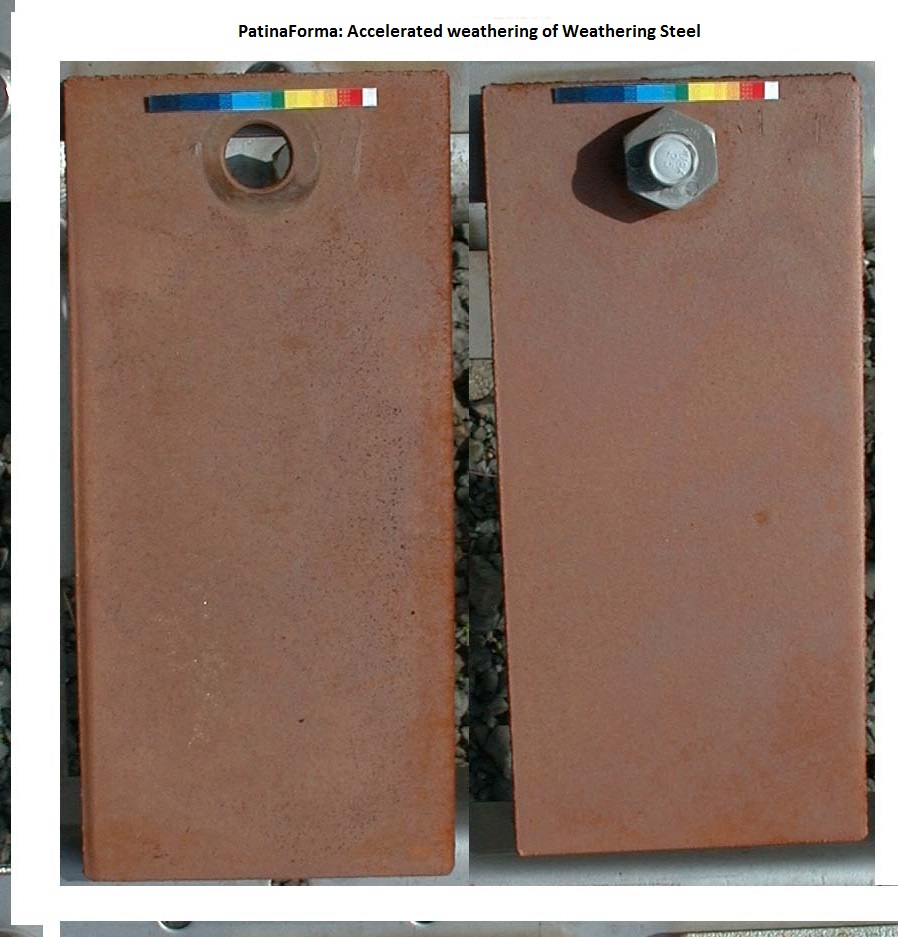 For more information contact us at Desmond@AdMetCoUS.com
AdMetCoUS is a full service corrosion analysis and consulting company that was founded on the belief that accurate, high quality analysis and evaluation of a corrosion problem, will lead to the correct solution the first time. We specialize in identifying and eliminating corrosion problems on steel structures, due to adverse atmospheric, marine, and industrial exposure. We perform Site Surveys to evaluate the suitability of the local climate and micro-environment for construction and rehabilitation of new and existing steel structures, coated and uncoated.
AdMetCoUS consults for and advises owners and contractors of steel structures, (bridges, power poles, transmission towers, guide-rails) on corrosion issues due to the local exposure conditions. We evaluate and advise on atmospheric corrosion problems arising from high time-of-wetness and contaminants such as chlorides, (marine and de-icing salts), and industrial emissions and acid rain, (SOx). Coated and uncoated structural steels, including weathering steels, High Performance Steel and Carbon Steels, are our specialty.
We also have experience in the corrosion of underground storage tanks as well as submerged structures in marine and deep-ocean locations. We serve as legal consultants and expert witnesses in cases involving corrosion due to exposure of materials to adverse environments.
Our success and reputation have been built on accurately identifying the rust constituents and corrosion chemistry, and correlating rust formation with the LOCAL micro-environmental exposure conditions. We have 20 years of field and laboratory experience on hundreds of real corroding structures, and have developed successful models and methods to help eliminate the adverse exposure conditions, and to protect the structure.
AdMetCoUS is very active in the area of environmental testing and evaluation of structural steels, including the development of new steels for bridge construction and rehabilitation in high chloride locations. We concentrate on measuring the atmospheric corrosion rates of coated and uncoated steel test coupons provided or specified by our clients. They may have been exposed by our client and evaluated by us, or we may develop and undertake a program of exposures under specified conditions, prior to analysis. The exposures we can provide may be at fully monitored Test Site within the US or internationally, or based on accelerated cyclic corrosion protocols in our laboratories. We have fully automated Cyclic Corrosion Testing chambers using standard industrial protocols for coated and uncoated steels. We are also developing new cyclic corrosion tests for atmospheric exposure and testing of structural steels. We have extensive experience in the development and management of Atmospheric Exposure Testing at US and international test sites, as well as on specifically selected bridges and similar structures worldwide. from exposure testing we measure corrosion rates, identify and map the corrosion products formed, and correlate the data with the environmental exposure conditions. We use the result to develop life-prediction data for the particular steel as used in existing or proposed new structures, under specific exposure conditions (site corrosivity). Coated and uncoated structural steels are our specialty, including carbon and weathering steels used for bridges, power poles transmission towers, and guide rails.
For further information contact us at Desmond@AdMetCoUS.com or (757) 715-7920.
Advanced Metal Coatings Incorporated.
Corrosion, Analytical and Consulting Services.
Accelerated and Natural Weathering of Weathering Steel

Bridge Corrosion Inspections

Accelerated Cyclic Corrosion Testing

Atmospheric Corrosion Testing

Coated and Uncoated Steel Coupon Exposures

Consulting and Expert Witness Services

Corrosion Evaluation

Site Corrosivity Determination

Rust Analysis.
Advanced Metal Coatings, Incorporated.
5038 Lauderdale Ave.
Virginia Beach, VA 23455, USA
Desmond@AdMetCoUS.com
ph: (757) 715-7920
www.AdMetCoUS.com
---